Local guides Florence, Pisa, Lucca, guided tours Pisa, Florence, San Gimignano, Siena, tour leaders, hiking guides in Tuscany
Our booking agency for tourist services in Tuscany offers:
exclusively

designed,

tailor made tours

for private groups

or individual travellers

(no scheduled tours for mixed groups).

guided walking tours in Pisa, Lucca, Florence, Volterra, Siena and in the entire region of Tuscany with tourist guides (local guides)
guide wine tasting, wine tours, wine- olive oil and cheese seminars with sommeliers (A.I.S.), professional olive oil tasters (C.O.I method) and cheese experts (O.N.A.F.)
culinary tours in Tuscany
tour leaders for trips in Tuscany and Italy
guided hiking tours with environmental excursion guides
consulting for travel agencies and tour operators
trip planning
assistance at the airports of Florence and Pisa, at all Tuscan train stations and at the seaport of Livorno
assistance at Congresses, meetings & incentives in Pisa, Florence, Montecatini Terme and in all othes locations in Tuscany.
Professionalism and experience: All guides and tour leaders of Grifo Tour are resident professionals and, of course, are fully licensed as required by law. They freely share their specialized knowledge, their passion and professional experience of the arts and history, of Tuscany and its people - in English, Italian, German, French and several other European languages
Variety of itineraries: The professionalism and the experience of our guides allows us to offer not just the classic guided walking tours in Tuscan cities, but a program of creative and innovative itineraries. Choose between a guided walking tour in Pisa combined with a boat trip on the river Arno, urban trekking in Florence, Volterra, Lucca, Siena, San Miniato or San Gimignano, a guided city tour in the historic center of Pisa while sitting on a funny tourist train, a guided bike tour in Lucca or our walking tours dedicated to music, literature and science!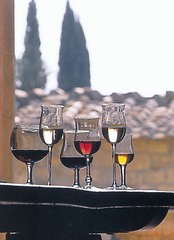 Foodies and friends of typical products can participate in our culinary tours. They include guided visits to some of the best Tuscan wine-producers, to a traditional pasta manufacture or an olive oil mill as well as some Tuscan farmhouses where the skills of producing genuine pecorino cheese are still alive. Every single culinary tour can be complemented by a guided tasting. Tailor made gourmet tours on request.
You would like to learn more about Tuscan food? During our culinary seminars professional sommeliers (A.I.S.), olive oil tasters (C.O.I method) and other food experts guide you through the fascinating world of Tuscanys' genuine products, a taste of Tuscany!
Beyond this we offer you guided excursions dedicated to the old tradition of tuscan craft. They include guided visits to a typical alabaster workshop, a wood-fired terracotta kiln, a crystal manufacture or a marble workshop.
Friends of nature and outdoor activities can choose among our garden tours or they can join us in our guided Hiking Tours on the Tuscan Arcipelago (islands of Elba, Giglio, Pianosa, Giannutri and Capraia), the Apuan Alps and the Chianti or to the hills of Lucca, Pisa and Livorno. Every single hiking trip will be guided by one of our experienced environmental excursion guides who have personally designed their tours. Most of the tours can be followed by guided walking tours in the city of Pisa, Lucca, Volterra, Siena, Florence and Portoferraio.
Accessible tourism: We pay particular attention to a type of tourism which enables travellers with handicap to exercise their right to mobility. Together with companies specialized in the transport of disabled persons and in close contact with the administrators of churches and museums we have designed some specific itineraries which permit a safe and pleasant visit. Of course, all these tours can be adjusted to the special needs of your group.
Sustainable tourism: We strive to develop and promote a special kind of modern tourism, one that respects the natural environment, historic places and local traditions. We are member of ANGT (National Guide Association), FEG (European Federation of Guide Associations), SLOW FOOD and WWF (World Wildlife Fund).